Let the evening begin. Enjoy British Cassis served straight as a delicious aperitif, pay the perfect complement to champagne by adding a drop to each flute, or shake it into cocktails. Here are our favourite tipples…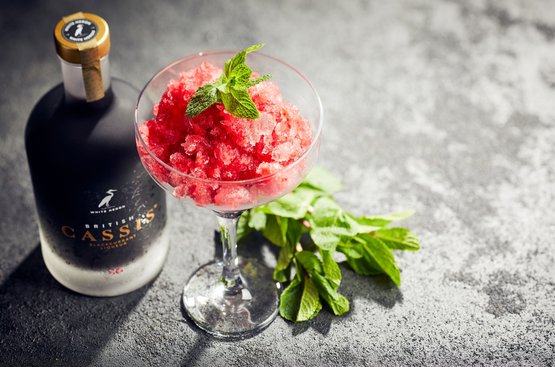 Blackcurrant and Rum Crush
50ml Rum
50ml British Cassis
30ml Sugar syrup
30ml Lime juice
30ml Water
A few mint leaves
A fruity little number, guaranteed to bring chilled vibes and good times to the summer! Mix all the ingredients together, give them a good shake, freeze overnight - "et voila". Pour into a glass and add a garnish of mint!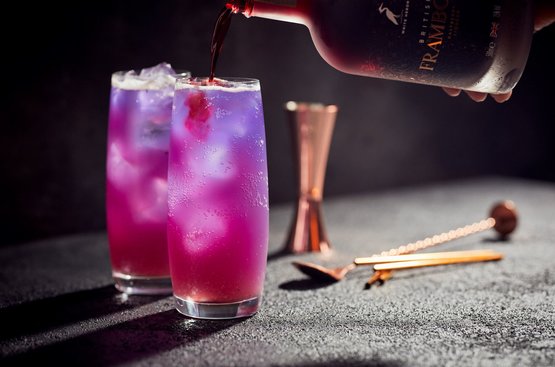 Blushing Brit
1/2 Teaspoon of Butterfly pea tea powder
100ml Vodka
100ml British Framboise
1/2 Lime
Soda Water
For two cocktails fill an high ball with ice. Mix half a teaspoon of butterfly pea flower tea powder with two measures vodka, shake with two measures British Framboise. Split between the two glasses and top up with soda water. Squeeze half a lime into each glass and watch the colour change before your eyes.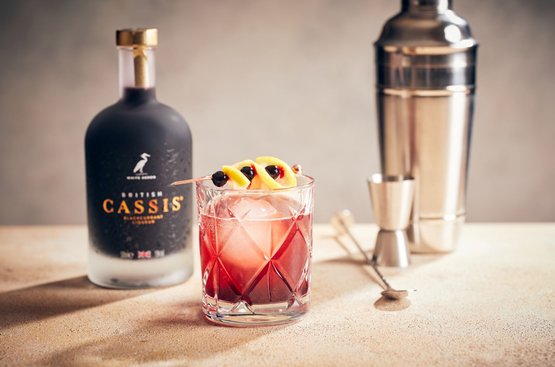 Bourbon Renewal
50ml Bourbon (Whiskey)
25ml British Cassis
25ml Lemon juice
Golden syrup to taste
A heady cocktail of whiskey and British Cassis. Mix the whiskey, golden syrup and lemon together, serve over ice then pour in the British Cassis on top. Sip and enjoy!
British Blue
25ml British Framboise
25ml White rum
25ml Curaçau blue
Pinch of golden sugar balls
A fruity number, with notes of raspberry and orange. A punchy cocktail of rum and British Framboise, topped with Curaçau blue to remind you of the ocean or your favorite lagoon; golden sugar balls for that extra indulgence.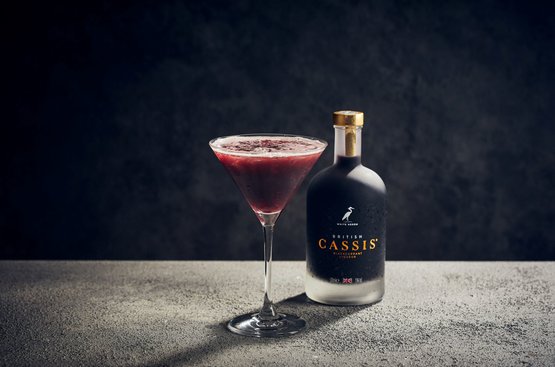 Dal gusto spritz
Hibiscus infused aperol
British Cassis
Saline solution
Lemon juice
Prosecco
Soda
A fizzy,sharp but sweet little number.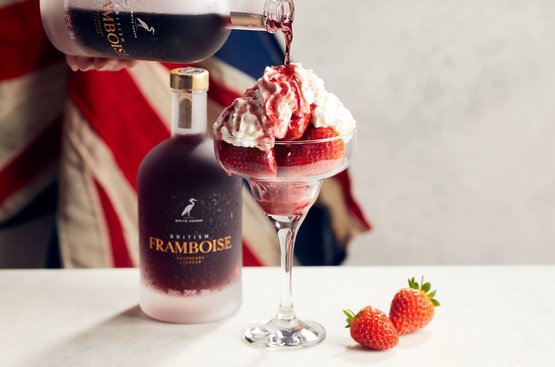 Drunken Summer Berries
Handful of British Strawberries
Whipped Cream
50ml British Framboise
Top British strawberries (and any other seasonal fruit) with whipped cream, add a splash of British Framboise; enjoy!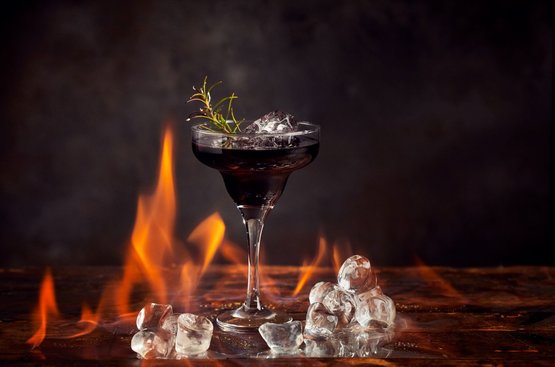 Fire and Ice (The EL DIABLO)
60ml Reposado Tequila
25min British Cassis
25ml Lime juice
Ginger Beer
For a firely cocktail, something with a real kick; combine ice and tequila. Top with ginger beer, then slowly pour in British Cassis (it will settle to bottom). Squeeze lime over, then drop wedge into drink and serve.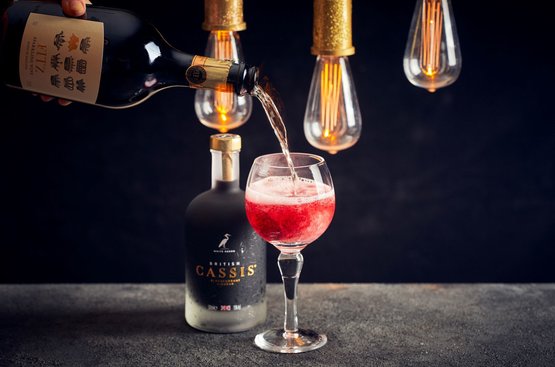 Fitz Spritz
25ml British Cassis
Fitz English Wine
Ice
Slice of lime
Soda to taste
Celebrate the best of British with this home-grown duo, add a splash of British Cassis to some Fitz English sparkling wine. Fruity, refreshing and indulgent; ideal for special occasions or receptions.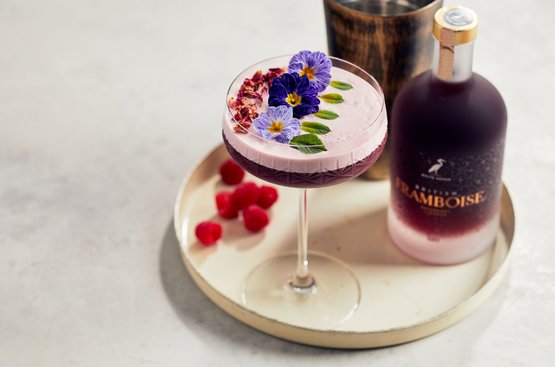 Flower Power
25ml White Heron Pink Gin
25ml British Framboise
5ml Lemon Juice
1 Egg white
Shake the gin, framboise, lemon juice and egg white with no ice. Add ice and shake again to chill. Pour into a coupette and decorate with primula, mint and dried raspberries.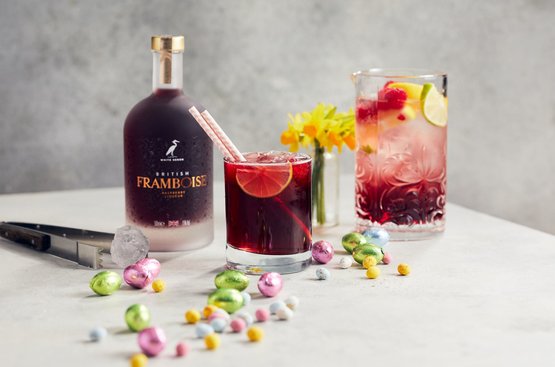 Green tea fizz
50ml British Framboise
120ml Green tea
35ml Lime juice
Soda water
Brew green tea and allow to cool, add the British Framboise to a bulbous glass and fill with ice. Add the dash of Lime and top up with soda water. Garnish with blackcurrants and blackberries.
Pink Twist
50ml White Heron Pink Gin
25ml British Framboise
Tonic of choice
Dash of angostura bitters
Garnish with rosemary and lemon peel
Drizzle some Framboise into a your White Heron pink gin! It's a delicious, and simple, twist on a traditional Gin & Tonic.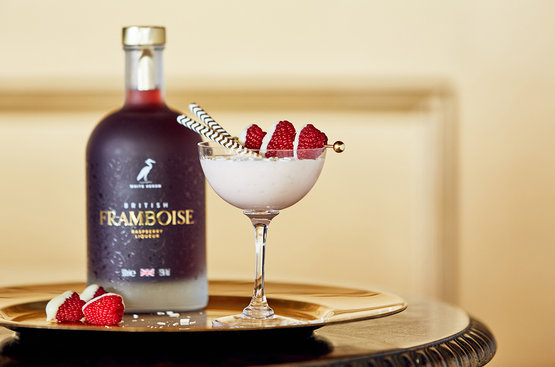 RASPBERRY AND CHOC SURPRISE
35ml White chocolate liqueur
35ml British Framboise
10ml Double cream
Shake hard with ice in a cocktail shaker, double strain into a glass. Decorate with grated white or dark chocolate and chocolate dipped raspberries.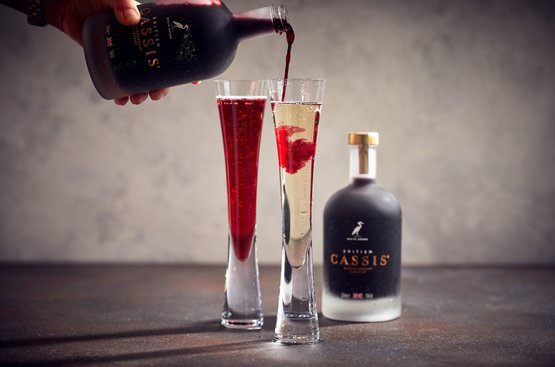 Royal Flush
Champagne, prosecco or English sparkling wine
25ml British Cassis
Sometimes the classics are the best. Simply add British Cassis to Champagne, prosecco or English sparkling wine - a duo of "The best of British". Add some berries to garnish if you wish.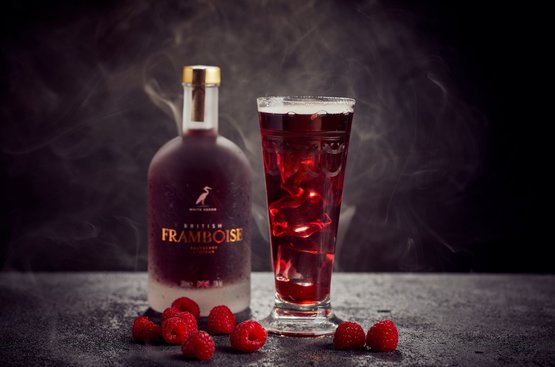 Summer Punch
British Framboise
Gin
Soda or Lemonade
A perfect weekend treat on those hot summer days. Plenty of ice, add British Famboise, topped with a splash of gin then either soda water or lemonade. Delicious and refreshing!! Add fruit to garnish.
Blackcurrant Martini
50ml Vodka
25ml British Cassis
Liquorice paint
Pour the British Cassis and vodka over ice in a cocktail shaker and agitate. Add a brushstroke of liquorice paint to the inside of a Martini glass before straining.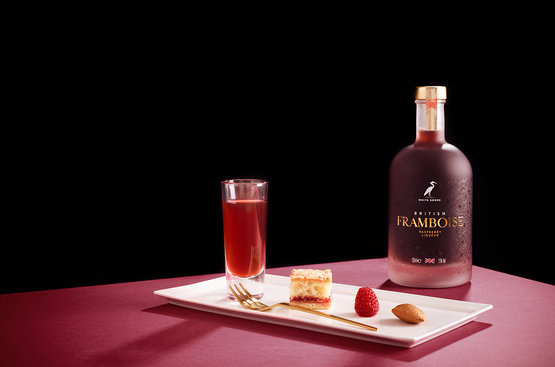 FRAMARETTO
50ml British Framboise
50ml Amaretto
This cocktail is perfect as a short, and more than gorgeous served with a slice of Bakewell tart. Equal parts of Framboise and Amaretto to fill
a small glass. Sip gently.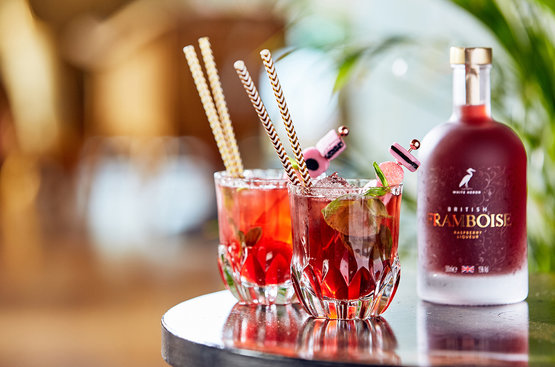 FRAMBOISE BASIL SMASH
25 ml British Framboise
25ml Gin
5ml Sambucca (optional)
3 Stems of basil
Muddle most of the basil with gin until the flavour has saturated the spirit. Shake with ice, British Framboise and Sambucca. Strain and pour over plenty of ice in a tumbler with further basil leaves. Garnish with a flourish of liquorice allsorts.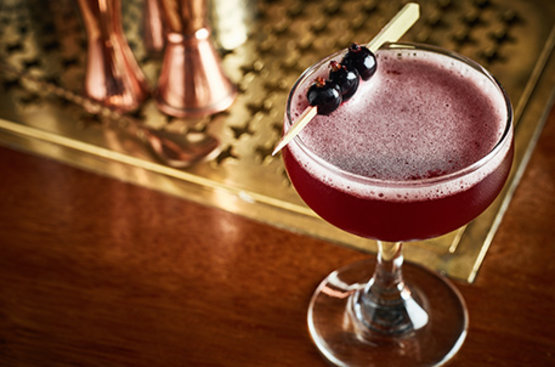 Blackcurrant Daiquiri
50ml White rum
25ml British Cassis
15ml Lime juice
Blackcurrants
Add ice to a cocktail shaker, filling three-quarters full. Add all the ingredients, cover and shake. Strain into chilled Martini glasses (without ice). Garnish with a trio of blackcurrants.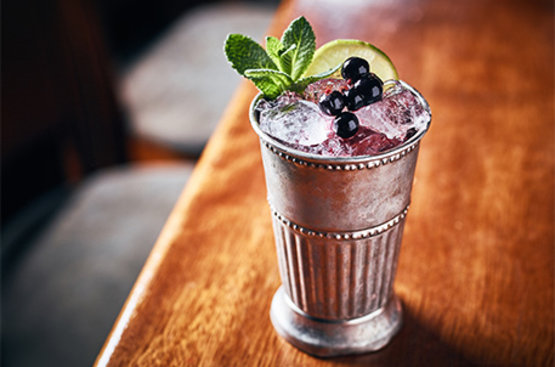 Hereford Mule
25ml British Cassis
12 Fresh blackcurrants
60ml Vodka
30ml Fresh lime juice
15ml Sugar syrup
Ginger beer
Pour the British Cassis, vodka and lime juice into a traditional pewter cup or highball glass over ice cubes. Top off with the ginger beer. Garnish with the lime wedge and blackcurrants.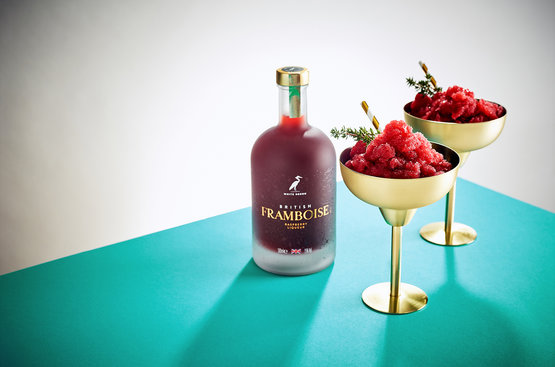 FRAMBOISE GRANITA
20 Raspberries
100ml British Framboise
50ml Sugar syrup
20ml Vodka
Blend lightly in a blender, pass the mixture through a sieve to remove the raspberry seed. Freeze. Run a fork through the mixture for the first few hours to break it up. Leave in the freezer overnight. Serve with a teaspoon and a straw and garnish with a sprig of thyme.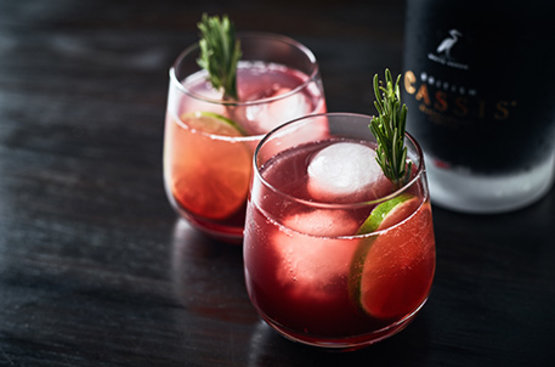 El Diablo
60ml Reposado Tequila
25ml British Cassis
25ml Lime juice
Ginger beer
Combine ice and tequila. Top with ginger beer, then slowly pour in British Cassis (it will settle to bottom). Squeeze lime over, then drop wedge into drink and serve.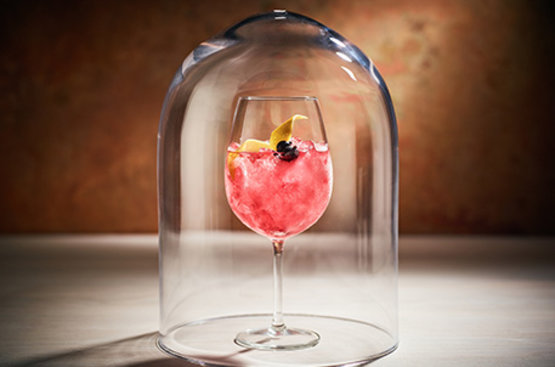 Blackcurrant Spritz
50ml English sparkling
25ml British Cassis
25ml Sipsmith Vodka
5ml Sugar syrup
50ml Soda
Pour over crushed ice and garnish with lemon peel and blackcurrant.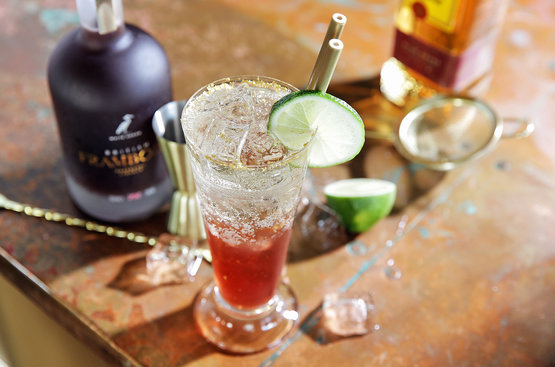 FRAMBOISE MEXICAN FIZZ
25ml British Framboise
10ml Tequila
10ml Lime juice
Pour over plenty of cubed ice and top with soda; or with tonic water.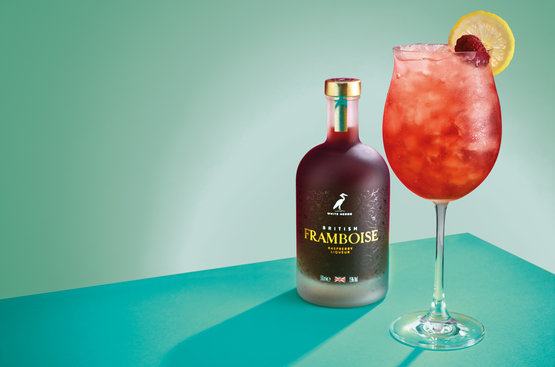 FRAMBOISE SPRITZ
British Framboise
Gin
Prosecco
Soda water
Angostura bitters
Fill a glass with crushed ice, pour over a good slosh of British Framboise, a smaller slosh of gin and top with prosecco and soda water. Use a small dash of angostura bitters to bring out the flavours. Garnish with lemon.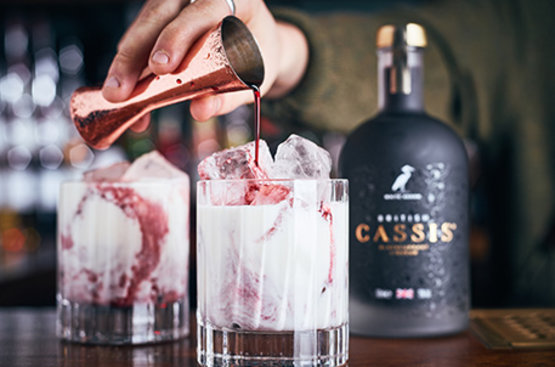 Pink Russian
50ml Vodka
20ml British Cassis
30ml Double cream
Chocolate powder
Combine the vodka and cream before pouring over ice. Drizzle through the British Cassis and sprinkle with chocolate powder dust.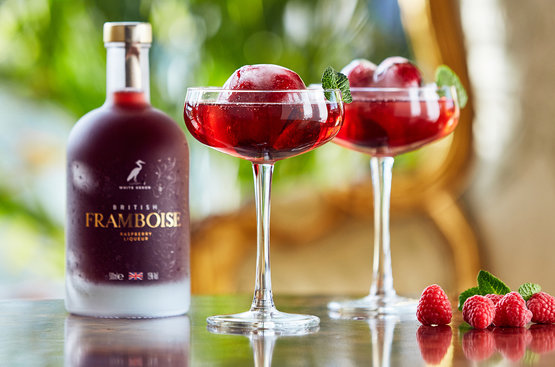 FRAMBOISE ON THE ROCKS
Make some large ice cubes with mint and raspberries inside. Pour over our delicious Framboise and sip slowly whilst the ice cools the liquid.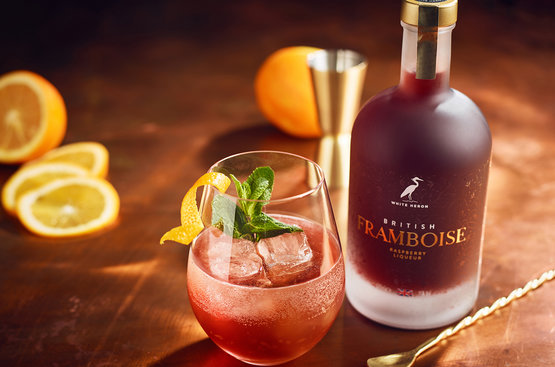 FRAMORANGIE
35ml British Framboise
35ml Orange liqueur
Fresh orange juice
Equal parts British Framboise and Orange Liqueur, a small splash of fresh orange juice. Add a twist of orange peel and a sprig of mint.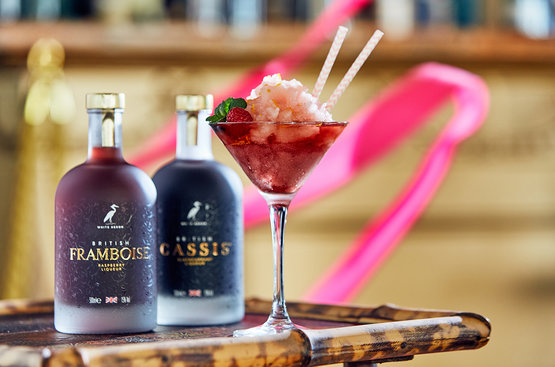 MIXED MARTINI FRAPPE
50ml British Cassis
50ml British Framboise
100ml Vodka (optional amount)
Vermouth
Freeze the Cassis and Framboise separately overnight. In the morning whizz each drink separately with 50ml each of ice cold vodka, a splash of vermouth and plenty of crushed ice. Layer the Framboise over the Cassis. Sip through a straw as it gently melts.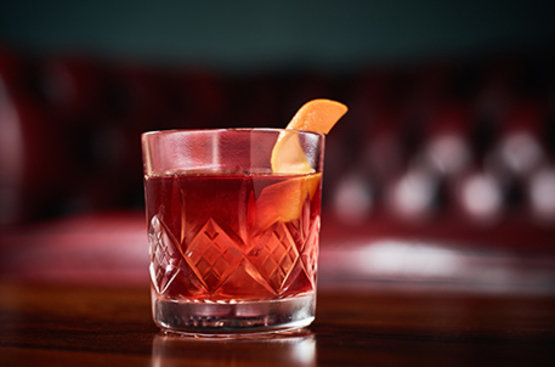 Cassis Negroni
40ml Gin
20ml Campari
20ml Sweet Vermouth
10ml British Cassis
Pour the ingredients into a cocktail shaker. Shake well with cracked ice. Strain into a chilled cocktail glass. Garnish with a twist of orange peel.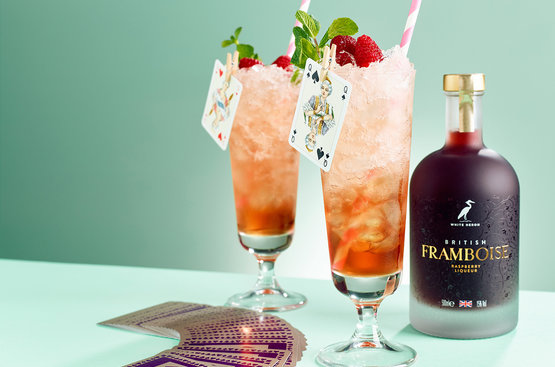 QUEEN OF COCKTAILS
35ml British Framboise
35ml Dark rum
Soda or Tonic water
Shake well and pour over plenty of crushed ice. Top with Soda Water or Tonic and garnish with fresh raspberries and mint. A light and fresh summer drink.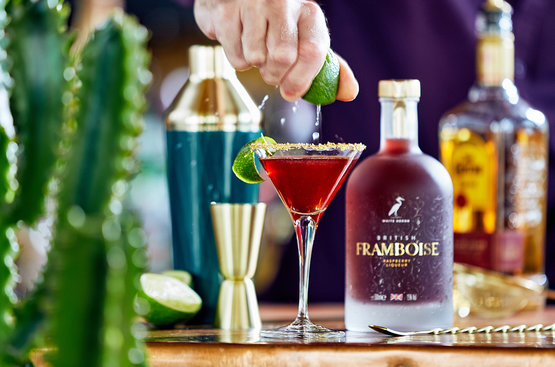 RASPBERRY TEQUILA
35ml British Framboise
35ml Tequila
10ml Lime juice
Dip a martini glass in edible gold flakes. Shake the ingredients with ice and pour for fresh Mexican fun.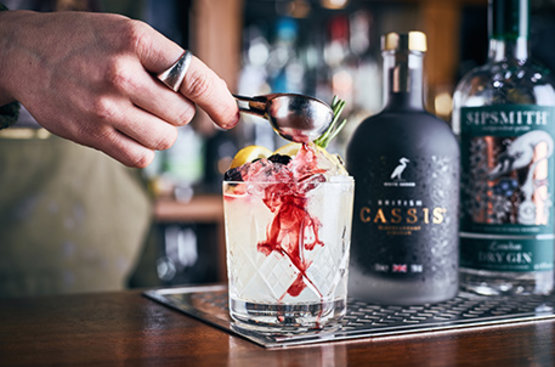 Bramble
20ml British Cassis
40ml Gin
15ml Lime juice
15ml Sugar syrup
Pour the gin, lime juice and sugar syrup into a shaker, half-fill with ice, and shake until ice cold. Strain into an old-fashioned rock glass filled with crushed ice. Drizzle the British Cassis over the top so it trickles through the ice. Garnish with fresh or frozen blackcurrants and a slice of lemon.
British Royale
An Anglo-French Romance
British Cassis
Champagne or Prosecco
Blackcurrants
Pop a trio of blackcurrants in a chilled champagne flute and add a generous dash of British Cassis. Then top with your favourite champagne or prosecco. An incredibly simple classic.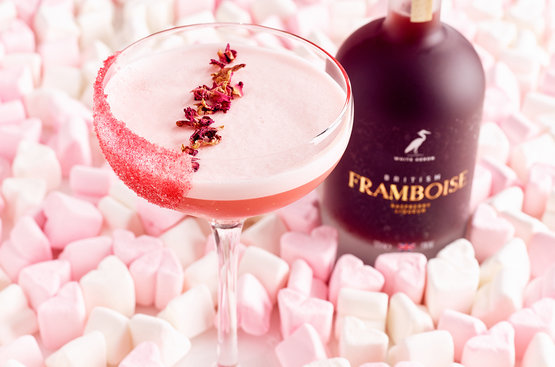 SWEET DELIGHT
OUR TAKE ON THE CLASSIC CLOVER CLUB COCKTAIL
35ml British Framboise
35ml Gin
5ml Lemon juice (if you don't like it too sweet)
1 Egg white
Dip the rim of the glass in raspberry sherbert. Shake the gin, framboise, lemon juice and egg white with no ice. Add ice and shake again to chill. Pour into a coupette and decorate with rose petals.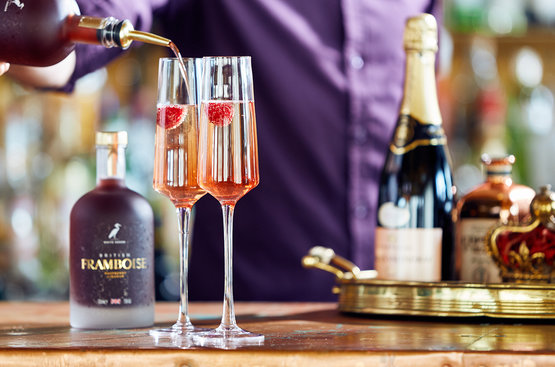 RED ROYALE
25ml British Framboise
Champagne or Prosecco
Raspberries
Soak raspberries overnight in brandy and pour over prosecco or fizz. Add a good dash of British Framboise to the glass and watch the bubbles rise.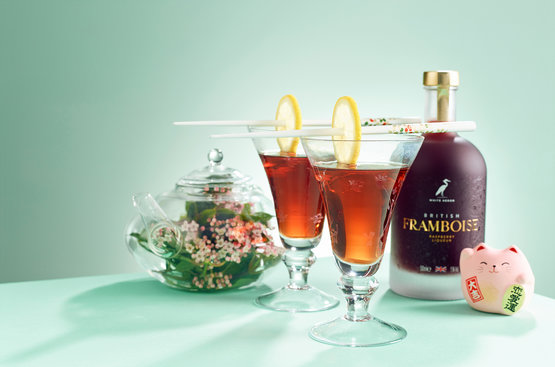 SAKITEA FRAMBOISE
35ml British Framboise
35ml Sake
5ml Lemon juice
Shake ingredients well over plenty of ice, pour into and iced glass with a couple of cubes of ice
(optional). Serve with a juicy slice of lemon, and Japanese Love and Happiness…
Daring to be different?
British Cassis is a versatile liqueur, lending itself to long drinks and strong drinks alike. We'd love to know your favourite Cassis recipe, a special treat awaits if your recipe is featured on this page!
Share your secret